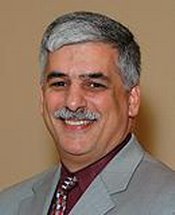 Ronnie Muro
A Sweet Tootsie Roll Memory
by Ronnie Muro
The month of October brings lots of things to mind. For many, it's time for the "Fall Classic" – the World Series. If you're an Alabama fan, it might mean the annual rivalry with Tennessee is near. But if you're a member of the Knights of Columbus, October means it's time for the "Tootsie Roll Drive".
For Knights of Columbus councils across the nation, October is the month devoted to fundraising for people with mental and physical disabilities. It is more commonly referred to as the "Tootsie Roll Drive" because Knights stand in front of stores or on street corners, wearing brightly covered vests, handing out Tootsie Rolls in return for donations of pennies, quarters and occasionally, dollars.
My father, Louis N. Muro, once told me that you weren't a real Knight of Columbus unless you worked the Tootsie Roll Drive. He was good to his word, heading up our council's drives every year until his death. He was actually at Wal-Mart collecting when he came down ill and had to be taken to the hospital.
For many reasons, I've tried to be involved in the Tootsie Roll Drive each year. We are always looking for ways to increase donations – 100 per cent of which are donated to various agencies. One year, I had the 'brilliant' idea to go downtown during the lunch hour and collect on a busy street corner. There were so many people out at lunch, I was sure we would have a very profitable day.
I even recruited Benny Bakane, the greatest Tootsie Roll collector of all time, to help me. Benny's natural joy and enthusiasm were hard to resist and his shifts at Wal-Mart always produced more donations than any others. It didn't hurt that Benny wouldn't take 'No' for an answer.
Most of us got accustomed to the little 'white lies' that people told to get out of making even the smallest donation. But not Benny! Many times someone would tell Benny they had no money – they had left it in the car. Sure enough, off Benny would go - pushing the person's buggy to the car and patiently waiting while he or she found their money and dropped a few coins or dollars into the collection can.
Benny and I met downtown that day, donned our yellow and red vests, and just waited on the money to start filling our cans. Our enthusiasm soon began to wane. Never had I seen so many poor people in one place. The strange thing was they were all wearing very nice clothes and most likely had pretty good jobs. But, according to them, they had no money. Poor souls! How were they able to afford lunch?
Of course they had money, but for whatever reason, we were passed by time and time again. Most ignored us. Some looked at us with disgust. Others just lied. Benny and I got increasingly frustrated as time passed. Still, it was good working side by side with Benny. He was truly a role model for me and I enjoyed the time we spent talking.
As our time on that corner progressed, I happened to notice a woman edging her way towards us. She was old and her appearance left a lot to be desired. She seemed to be carrying all of her belongings with her. Some might have called her a 'bag lady'. Others would probably call her worse. I watched as she took very small steps in our direction. "What did she want?" I wondered. Didn't she know that we were the only ones begging on this corner?
As she neared me I watched as she reached out her hand shakily. Slowly she opened her fist and let a few coins drop in my can. Then, quietly, she shuffled along her way without saying a word.
I was stunned. I was also ashamed for what had run through my mind minutes before. I thanked her heartily and I heard Benny shout out with joy, "Jesus loves you!!" Ah yes, Jesus loves her.
We were both reminded of the poor widow that Jesus spoke of in the Gospel of Mark. As Jesus watched the crowd making their offerings, many rich people threw in large amounts. Then a poor widow put in two very small copper coins – not even worth a penny. "Calling his disciples to him, Jesus said 'I tell you the truth, this poor widow has put more into the treasury than all the others. They all gave out of their wealth; but she, out of her poverty, put in everything—all she had to live on.'" (Mark 12:43-44).
Such was the case that day, as amid the hustle and bustle of downtown Birmingham, a simple, quiet act of generosity showed us what true giving was all about.
Ronnie Muro is the St. Patrick Catholic Church Family Life Director and the co-author of the book "Stories with a Purpose: Lessons for the Spirit, Lessons for the Heart" that was published by St. Mary's Press in 2006. You can order the book directly from the St. Mary's Web site (www.smp.org) or directly from www.amazon.com.