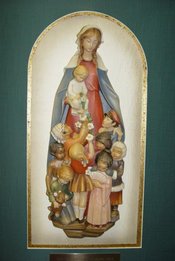 Life, from conception to natural death, is God's gift to us. O Mother Mary, help us rid the world from the scourge of abortion and euthanasia. Presented to St. Patrick Catholic Church by Knights of Columbus Council # 10567. March 2000

Knights of Columbus Council 10567 Members Take Pride in Their Dedication to Prayerful Promotion of the Sanctity of Life -- from Conception to Natural Death
Sunday mornings at St. Patrick begin with a prayerful Rosary in the Chapel dedicated to the sanctity of life. The Rosary is sponsored by the Knights of Columbus and begins at 9:30 prior to the 10 a.m. Mass.
One of Council 10567's proudest projects occurred in 2000 when we purchased a beautiful hand-carved wood sculpture that is proudly displayed at St. Patrick, Purchased during the term of then Grand Knight Mike Muro, this artwork is shown in the photo on this page. The piece was purchased directly from a company in Italy. The image is of the Blessed Mother and Children and symblizes the Knights' commitment to the sanctity of life.
Council 10567 members are also strong contributors to the monthly Pro-Life March on the Southside of Birmingham. Those dedicated to the Right to Life for all, including the unborn, meet at St. Stephen the Martyr Church for Mass at 8 a.m. on the third Saturday of each month. After Mass, a march is held from the church to an area abortion clinic. At ths clinic, four Rosaries are said and the participants peacefully protest the abortion acts that are taking place across the street.
Council 10567 members take part in the Mass, march and Rosary and the Council periodically pays for the permit to march. If you would like to participate, just show up at St. Stephen on the third Saturday of the month at 8 a.m. For more information on the the Pro-Life Mass and Rosary vigil, click here.
Members who attend monthly council meetings also pray a decade of the Rosary for Pro-Life and hear reports from the Community Director on current Pro-Life activities.