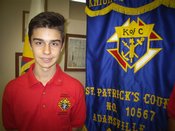 2016 Scholarship Recipient Ryan Shiflett

Council Has Awarded Thousands of Dollars Since Scholarship Was Initiated in 1995
Knights of Columbus Council 10567 began awarding a scholarship to deserving high school seniors in 1995. Applicants are selected based on high academic achievement, outstanding service to Church, participation in church youth activities and service to Community.
In 1996 the award was renamed the Louis N. Muro Memorial Scholarship to honor the founder and Charter Grand Knight of Council 10567. Louis N. Muro was a man who believed in learning, academic excellence and service to church.
Forty-nine young people of St. Patrick have benefited from this scholarship since its inception. We are proud that our past recipients are now teachers, lawyers, writers, nurses, psychologists and we also have a member of the military.
Below is a list of past Louis N. Muro Memorial Scholarship recipients:
1995

Tricia Farris
Jackie Prestley

1996

Shawn Allen

1997

Natalie Muro
Amy Byrd

1998

Andrew Brasfield
Heather Day
Tracie Troha

1999

Stephanie Muro

2000

Joseph Byrd
Mary Grace Chicarello
Stephen Von Hagel

2001

Joey Palmer
John Phillip Troha

2002

Stephanie Cather
Jennifer Duchock
Angela Rubino
Jonathan Moody
Laura Crandall

2003

Nicole Ozbolt
Matthew Duchock
Greg Brasher

2004

Doug Blanchard

2005

Brett Chafin
C. J. Richerzhagen
Jennifer Snider

2006

Joshua Lively

2007

Michael Cather

2008

Jeremy Blanchard

2009

Mandy Shunnarah

2010

Justin Richerzhagen
Haylee Fadlevich

2011

William Mark McPherson II
Michael Smith

2012

Delaine Johnson

2013

Bryant Collins III
Danielle Berger

2014

Jeff Blanchard
Fernando Medina

2015

McCahill Smith

2016

Ryan Shiflett

2017

Nicholas Collins
Zack Collins
Dalton Morrow
Jessica Owen

2018

Anna Blanchard
Gracie Dougherty
Catherine Pender
Maria Vicente