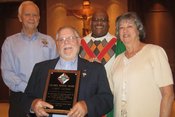 2015 Colombo Serice Award Recipient Larry Cannon

In 1995, Knights of Columbus Council 10567 instituted the Colombo Service Award to honor a St. Patrick parishioner for a lifetime of service to Church, Diocese and Community. The Knights felt it was important to recognize those who had contributed many years of service to the parish in a variety of ministries. Often these dedicated servants are the heart and soul of a parish, frequently serving quietly in many areas unknown to others.
The award is named in honor of the late Lou Colombo , longtime St. Patrick parishioner and charter member of Knights of Columbus Council 10567. Mr. Colombo, deceased Music Director of St. Patrick Catholic Church, was instrumental in the formation of the Council, working with founder and charter Grand Knight, Louis N. Muro, to recruit members from the parish.
The inscription on the award reads: "For Outstanding and Dedicated Service to St. Patrick Catholic Church, the Catholic Diocese of Birmingham, and the Community."
The first winner of the award, Catherine Barrett, was originally a member of St. Catherine Church, one of the four churches that merged to form St. Patrick Church. Miss Barrett has been Sacristan for many years and has served the parish and diocese in many roles. The second honoree, Benny Bakane, was one of the most respected and loved Knights in the history of the Council. Benny's spirit, love of the Lord and selfless volunteerism inspired those around him and helped earn him the Colombo award in 1996.
Since that time, many other deserving recipients have been honored. The most recent honoree was Fred Deason, a longtime servant of St. Patrick and Knights of Columbus Council 10567.
Fred is a native of Carbon Hill and his parents are buried there. But he spent most of his childhood as an Ensley boy and Fred still remembers his neighbor in Ensley, Mrs. Tombrello, and how she used to chase him out of her yard for messing with her prized garden.
He graduated from Ensley High School in 1959 and was a sheet metal worker until he retired in 1999 after some 40 years.
What would Fred Deason be without Irene Deason? They were neighbors in Ensley and their daughters became friends and that led to Fred and Irene meeting. This November they will be married 40 years. Combined they have four children, David Deason, Elizabeth Prestwood, Robert Freeman and Kim Comer. They have 6 grandchildren and 3 great-grandchildren.
Fred became a Catholic in 1962, taking instructions from Father McDevitt at St. Anthony. Irene became a Catholic as part of Father Ray Murrin's last RCIA class at St. Patrick.
Fred was recruited to the Knights of Columbus by Phillip Troha and Phillip Slovensky and he fondly remembers J. C. Bradley coming to pick him up to take him to the Degree ceremonies at Our Lady of Sorrows.
At St. Patrick, Fred has been a servant, working behind the scenes to keep this campus up and running. We parishioners never know about the countless hours someone like Fred spends as part of maintaining this facility. As a member of the Knights of Columbus, Fred has served as an officer but more importantly, he has supported every endeavor undertaken by the Knights, especially the Jerome C. Bradley Memorial Dinner Dance.
From day one, Fred Deason has been a visible presence at this Church and his service has never wavered.
Below is a list of all recipients of the Colombo Service Award.
Colombo
Service Award Honorees
Catherine Barrett
Benny Bakane
Ronnie Muro
Alice Slatsky
Jane Kiintsler
Phil Slovensky
Larry and Monica Crocker
Donnie Schober
Anthony Brooklere
Louis J. Muro
Phillip Troha
Charles Blanchard
Roger Click
Gregory Skocik
Tom Marks
Doris Moody
Larry Cannon
Janet Rubino
Fred Deason